Fuel for the Future – National Nutrition Month 2023
Download the National Nutrition Month 2023 PDF
This year's theme is "Fuel for the Future." Eating with sustainability in mind is a tasty way to nourish ourselves during every phase of life and protect the environment. A Registered Dietitian Nutritionist can help you create healthy habits that are sustainable and celebrate your unique needs. Please visit www.eatright.org/nnm to find more information and resources for National Nutrition Month® 2023.
What's Included in This Packet?
"Fuel for the Future" by choosing foods to fuel you, your family, and the planet with the help of these handouts:

Fuel for the Future
Eat Right and Reduce Waste
Smart Tips for Plant-Based Eating

Our Recipe Inspiration to Serve Healthy Communities page, available on Gordon Experience includes recipe collections that are built considering both eating styles and also environment or lifestyle of your guests. Collections include:

Veg-Centric
Vegetarian
Global
Mediterranean
Animal Welfare Focus
Non-GMO
Grab & Go

Use our Gordon Food Service Clear Choice Filters to find healthy, diverse ingredient options:

Plant-Based Protein
USDA Organic
Non-GMO
Marine Stewardship Council (MSC)

Fun and informative activities to engage both adults and children in healthy eating:

Crossword Puzzle
Word Scramble
Nutrition Sudoku
Word Search

Healthy Recipes for you and the planet from Gordon Food Service, located on GFS.com under Get Inspired and ready to use in Cycle Menu Management:
The Nutrition Resource Center Team Can Help!
Foodservice Training Topics available on Gordon Experience Resources, include pre- and post-tests, PowerPoint presentations, activity ideas, and certificates of completion.
The Health and Wellness Guide is available on Experience –> Resources

Provides an abundance of information, ideas, tips, and guidance that relate to health and wellness.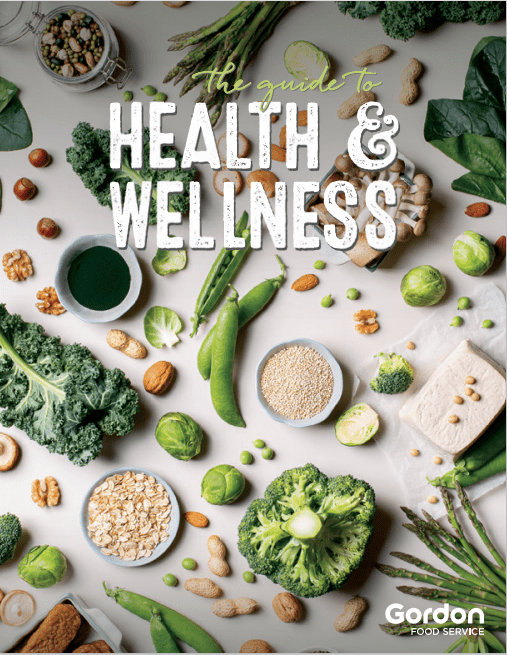 The Nutrition Resource Center has a staff of Registered Dietitians available Monday through Friday, 8 AM – 5 PM EST to answer your nutrition questions via our email nrc@gfs.com. We're here to help!
Fuel for the Future
No matter your age or activity level, making healthful food and drink choices will provide your body with energy now and fuel for the future. Plus, the benefits of eating healthfully can add up over time.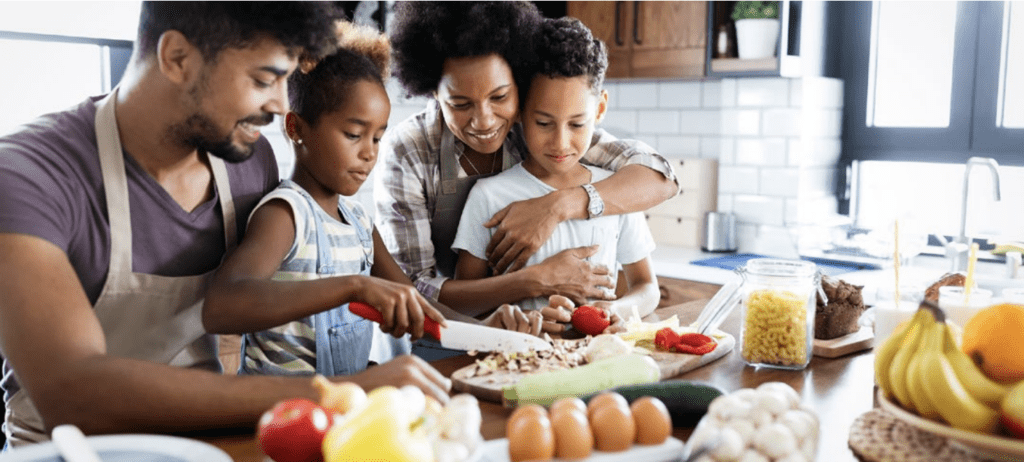 Ways we can Fuel for the Future:
Eat with the environment in mind.
Buying foods in season and shopping locally, when possible, not only benefits the planet but also may help you keep your food costs down.
Enjoying more plant-based meals and snacks is another option. Try more meatless meals or substituting some or all of the meat in recipes with plant-based proteins.
See a Registered Dietitian Nutritionist (RDN)
Good nutrition can positively influence our health, and there are many ways to eat healthfully. Plus, no single food or food group provides all the nutrients we need for good health.
It's important to learn what choices work best for you so that a healthy eating routine becomes a way of life. Ask a doctor for a referral to an RDN and find an RDN who specialized in your unique needs.
Stay nourished and save money.
When prices of food and other goods go up, buying healthful foods may not feel like a priority. Yet, many healthful foods are filling, cost less overall, and help to manage or reduce your chances of developing certain chronic diseases.
A little planning before you shop can go a long way in choosing foods that are affordable, satisfying, and have a higher amount of nutrition.
Eat a variety of foods from all food groups.
Fruits, vegetables, grains, protein foods, and dairy all play a role in fueling our bodies.
Choosing a variety of healthful foods is important since foods can differ in the nutrients they provide.
Follow MyPlate's Daily Recommendations for each food group to get the nutrients you need at each life stage. Eat foods in various forms including fresh, frozen, canned, and dried.
Make tasty foods at home.
To increase variety in your eating routine, try new flavors and foods from around the world.
Another way to eat healthier and save money is to learn cooking and meal preparation skills. This can help you find creative ways to use leftovers rather than tossing them.
Putting it all together
Finding ways to include the foods you enjoy while getting the nutrients you need is important at any age.
The foods and drinks we choose can be influenced by a variety of things, such as taste, cost, culture, convenience, and cooking skills.
For help in reaching your health goals, consult a registered dietitian nutritionist. RDNs are the nutrition experts and can provide individualized nutrition advice to help you Fuel for the Future.
Eating Right and Reduce Food Waste
Go further with food by incorporating these food, nutrition, and physical activity tips.
People rarely talk about the foods they toss out, yet the topic of food waste is getting a lot more attention these days.
It's been estimated that Americans throw away billions of pounds of food each year either at home or when eating out. And that amount doesn't even include the food that goes uneaten at the grocery store or the crops that are left in farmers' fields.
Not all food that is wasted can be saved and eaten, but it's been proven that a lot of food waste could be prevented, especially at home.
A good place to start is right in your own kitchen. Here are a few tips that will help.
Plan meals based on the foods you already have on hand.
Look in the refrigerator, freezer, and pantry for foods that need to be used up.
Write a list of the ingredients you still need.
Buy only the amount of perishable foods that can be eaten or frozen within a few days. This is especially true for foods, like fresh fruits, vegetables, meats, dairy products, and seafood.
Get creative with leftovers.
Transform meals into soups, salads, or sandwiches by cutting up leftover veggies and cooked meats.
Use as a topping for salads or cooked grains like rice or pasta.
Wrap in a tortilla or stuff into a pita for a satisfying sandwich.
Combine to make soup, then enjoy or freeze for future use.
Eat as a leftover meal later in the week.
Or simply brown bag the leftovers for lunch.
Master the shelf-life of foods.
Many foods and drinks purchased at the grocery store include a date, which indicates when they should be used or sold by. Because these dates refer to the product's quality, it doesn't necessarily mean they should be thrown out.
"Use by", "Best by" and "Best Before" dates are found on foods, such as mustard, salad dressing, and ketchup. These products usually don't need to be refrigerated until opened. In many cases, they are safe to eat beyond the date as long as they have been stored properly.
"Sell by" dates are displayed on perishable foods, such as meats and dairy products. It's possible these foods may be used for a few days after that date, as long as they were stored at a safe temperature.
Practice good food safety.
Don't risk eating or drinking anything that you suspect has spoiled.
Eat leftovers within 3 to 4 days (or freeze for up to 3 to 4 months).
Test your food safety knowledge or find out if it's time to toss those foods by downloading FoodKeeper App on foodsafety.gov.
Create ideal storage conditions.
Store foods in the pantry so that products with closer dates are upfront.
Place foods that could spoil quickly within sight, such as in the front of the refrigerator or on the counter (if they're not perishable). Wait to wash the produce until right before serving.
Learn which fruits and vegetables to store in the refrigerator. Some produce will cause other fruits and vegetables to ripen quickly, so they need to be separated. And others should be stored in a cool, dark, dry place. Check out eatright.org for more information.
Other ways to go further with food.
Be mindful of portion sizes. Choose smaller portions to stay within your calorie needs, as MyPlate recommends.
Order smaller sizes of food and drinks when eating away from home. Or ask for a to-go container at the start of a meal.
Learn how to properly can or dehydrate foods at home.
Donate extra foods that are still safe to eat to a local food pantry or shelter.
Consider composting.
Smart Tips for Plant-Based Eating
Although the popularity of eating "plant-based" has grown, this term currently lacks a formal definition in the United States. In the past, plant-based was often used to describe a vegetarian or vegan diet. More recently, plant-based has been used to describe an eating style that includes more foods that come from plants, like fruits, vegetables, grains, nuts, and seeds. It's also a term that may be used in the marketing of food, like dairy alternatives and meat substitutes.
Are there benefits of eating more plant-based foods?
People may choose to consume more plant-based foods for a variety of reasons, including:
Health benefits associated with eating more fruits and vegetables.
Concerns for the environment.
Potential for lower grocery bills and food costs. For example, a meatless chili using dried beans is less expensive than a chili containing meat or a textured meat substitute.
Are plant-based foods more nutritious?
Just because a product is plant-based doesn't necessarily mean it is healthier. Premade plant-based foods and beverages can vary in the nutrition they provide.
While a variety of nutrients can be obtained from plant-based foods, this type of eating style may require some additional planning to make sure that you are getting all the vitamins, minerals, and protein you need. It will depend on your overall food intake and what foods are being replaced with plant-based sources.
The Nutrition Facts Label is a helpful tool to determine if a food or beverage is the right choice for you. This is especially true for dairy alternatives. As an example, some plant-based beverages only provide a small amount of protein. Plus, if it's flavored, there may be added sugars. According to MyPlate, only fortified versions of soymilk and soy yogurt are considered part of the Dairy Group, since the nutrition they provide is similar to cow's milk.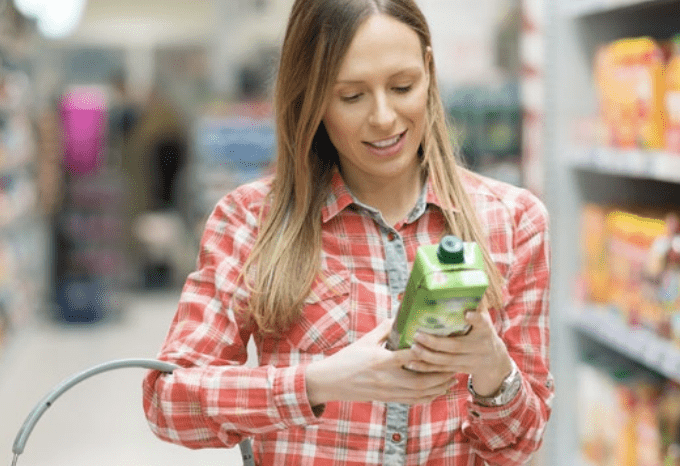 Beneficial nutrients to look for in plant-based products include:
Calcium
Vitamin D
Vitamin B12
Dietary Fiber
Protein
Meanwhile, aim for low amounts of:
Saturated Fat
Sodium
Added sugars
How to Get Started
For a healthy eating style that includes more plant-based foods, focus on ways to add more fruits, vegetables, and whole grains. For example:
Designate a certain night(s) for meatless meals.
Try substituting some or all of the meat in recipes, with plant-based sources of protein, such as beans, tofu, tempeh, or unsalted nuts and seeds.
Include more vegetables and fruit without added sugars or salt in meals in snacks.
Transparency to Cleaner Labels, Responsibly Sourced and Sustainable Products
Look for these popular attribute filters and more!
Vegan
Raised without added hormones
Rainforest alliance
Gluten-Free
Vegetarian
Raised without added antibiotics
Non-GMO
Green Seal
Plant-Based Protein
Marine Stewardship Council (MSC)
USDA Organic
Made from renewable resources
National Nutrition Month 2023 Recipes