Let it grow, let it grow, let it grow! Your winter recipe collection, that is. It's time to beat the winter blues with meals meant to warm the soul. Gordon Food Service offers the gift of globally inspired recipes featuring sensational sauces, warm broths and a colorful array of goodness.
From a pair of Asian eggplant recipes to hearty Vietnamese pho and a pasta with a plant-based red sauce, your guests are in comfort foods perfect for the season. Indulgence also has a place at the table, with scrumptious plant-based burger and a sweet potato topped with still more sweetness.
There are flavors ready to satisfy and fortify. Just the way to make winter a wonderland of great eating.
FEATURED RECIPES

Char-grilled eggplant planks are smothered in a warm and zesty curry sauce and dollops of bright yellow turmeric yogurt sauce, then served with crunchy pistachios and cilantro.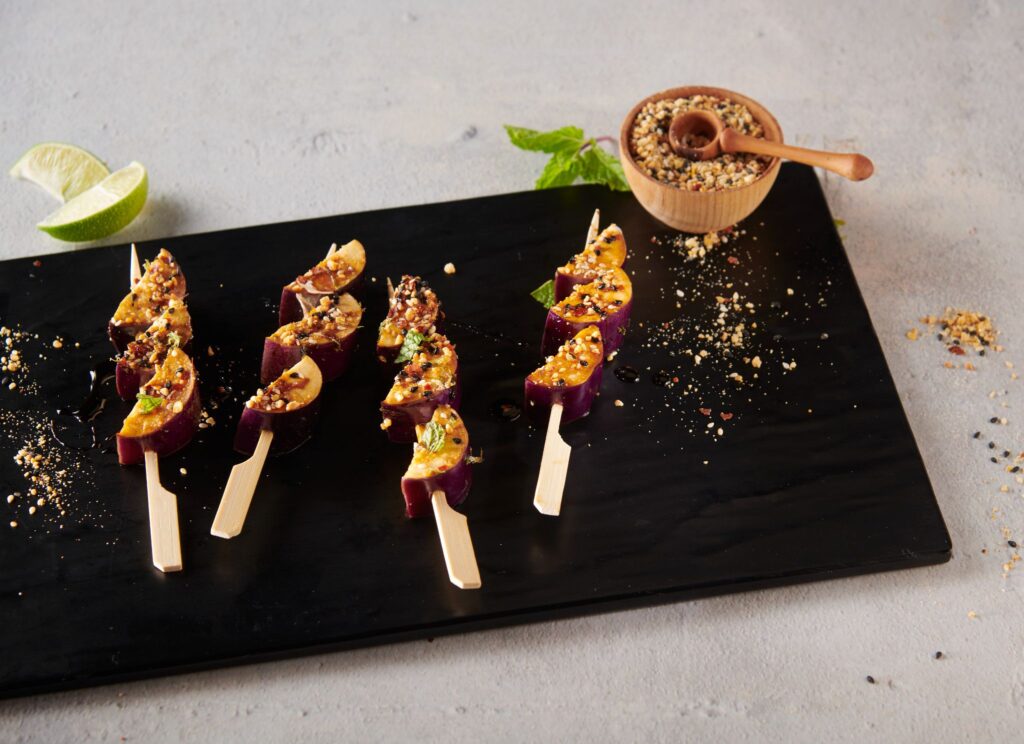 Bring a sense of summer to the table with eggplant kebabs. Char-grilled eggplant planks are brushed with sweet soy sauce, coated with sesame peanut crunch and a touch of lime zest, fish flakes and mint.

This Vietnamese staple never tasted so hearty. Brisket meat cooks to its tender best in a broth swimming with rice noodles, shiitake mushrooms, cilantro, jalapeno, basil and green onion.
Here's a handheld ready to stand in for the traditional beef burger. A plant-based patty gets all the fixins—cheese, lettuce, pickles and even our version of special sauce.
Lentil penne gets perfectly coated with a veggie-filled Bolognese sauce featuring peppers, onions, garlic, celery and Marzano tomatoes. Topped with Parmesan and a basil leaf, this dish is a voyage to Italy.
The sticky-sweet orange flesh of an oven-roasted sweet potato is accented with honey, tahini paste, walnuts, sesame seeds and red pepper flakes, all highlighted by apple butter.