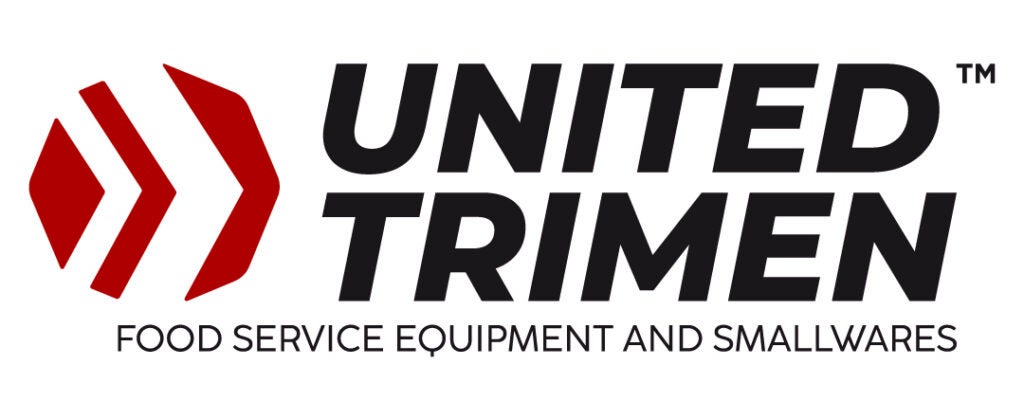 TORONTO, September 14, 2023 – In a move focused on providing clients with nationwide, single-source expertise and convenience, Trimen and United Restaurant Supplies have joined together to form a new company named United Trimen. Leveraging the strengths and historical excellence of both companies allows United Trimen to offer customers a proven resource for ordering both smallwares and commercial food service equipment across the nation.
"Bringing the natural synergies and industry experts from United and Trimen together as one company makes perfect sense," said Jay Evershed, General Manager, United Trimen. "We have a shared passion to help our customers succeed by providing equipment and smallwares solutions that memorable dining experiences are built on. We will accomplish that with highly personalized, innovative smallwares and equipment solutions delivered through a seamless, convenient experience."
United Restaurant Supplies has been a trusted provider of smallwares and light equipment to restaurants across Canada for the past 75 years. From customer-facing products, such as dinnerware, flatware and glassware, to critical behind-the-scenes products, like kitchen prep tools, pots, pans, cleaning supplies and storage containers, United has provided the quality and assortment of products that make for an overall wonderful dining experience.
For more than 30 years, Trimen has been the leader and the "go-to" food service equipment provider for commercial kitchens and restaurants across North America. Trimen designs, sells and installs commercial kitchen solutions for some of the largest stadiums, hospitals and restaurant chains in the region. Customers rely on Trimen's fully integrated supply chain of more than 30 leading commercial equipment manufacturers and its 24-hour service hotline.
Together, these companies offer a streamlined, nationwide customer experience and the right solutions for each customer's unique needs. A new centralized warehousing solution expedites order processing and expands product choices to include hundreds of additional items from nationally known brands such as Browne, Cambro, Garland, Libbey, True and other valued partners.
"Bringing together these two industry-leading companies enables us to leverage each other's strengths, expand our offerings and provide our customers with one source and one responsibility for a streamlined experience and fantastic, personalized customer support," said Ryan Murphy, Director of Sales – Smallwares, United Trimen. "This combination also allows for new growth strategies in the market as well, making it an all-around great move for our customers, our business and our employees."
The newly combined company is already operating under its new name, United Trimen, based in North York, Ontario—in the greater Toronto area.
About United Trimen
United Trimen offers customers a proven, single source for ordering smallwares and commercial food service equipment across Canada. With hundreds of manufacturer brands available, we offer performance-driven solutions to help our customers deliver an exceptional guest experience. Our comprehensive array of products range from dinnerware, barware, kitchen tools, and buffet and catering equipment to commercial equipment for food preparation, refrigeration, cooking, warming and serving. The company is based in North York, Ontario, and is a wholly owned subsidiary of Gordon Food Service. Visit us at unitedtrimen.com to learn more. 
Media Contact:
Sharon Devine
616-717-6014