Trying to stay on top of ever-changing beverage trends year after year can be a daunting task for an operator. But keeping beverage offerings on point can result in additional revenue that establishments should consider, especially post-pandemic.
The industry has seen some wild trends recently posted on social media sites (We see you, Tik Tok!), from glitter cocktails to elaborate shots (Chocolate-dipped shot glasses anyone?). But in 2023, the drink trends that have really taken off have less to do with glitz and glamor and more to do with simple, healthier offerings.
Let's break down the year's hottest trends:
Mocktails, Throwbacks, and Martini Madness:
Throwback drinks like gin and tonics, Long Island Iced Teas, and the Sarah Jessica Parker-inspired Cosmopolitan are back. So pour your customers a little splash of nostalgia and watch them come back for more.
Data shows that non-drinkers and drinkers alike are turning to more sober sipping. Mix up your beverage list with an alcohol-free mojito, mai-tai, or seltzer spritzers in place of champagne.
Martinis are everywhere. Peanut butter, espresso, and pistachio martinis are gaining traction. The tequila martini (often called a Mexican Martini) is gaining popularity as well.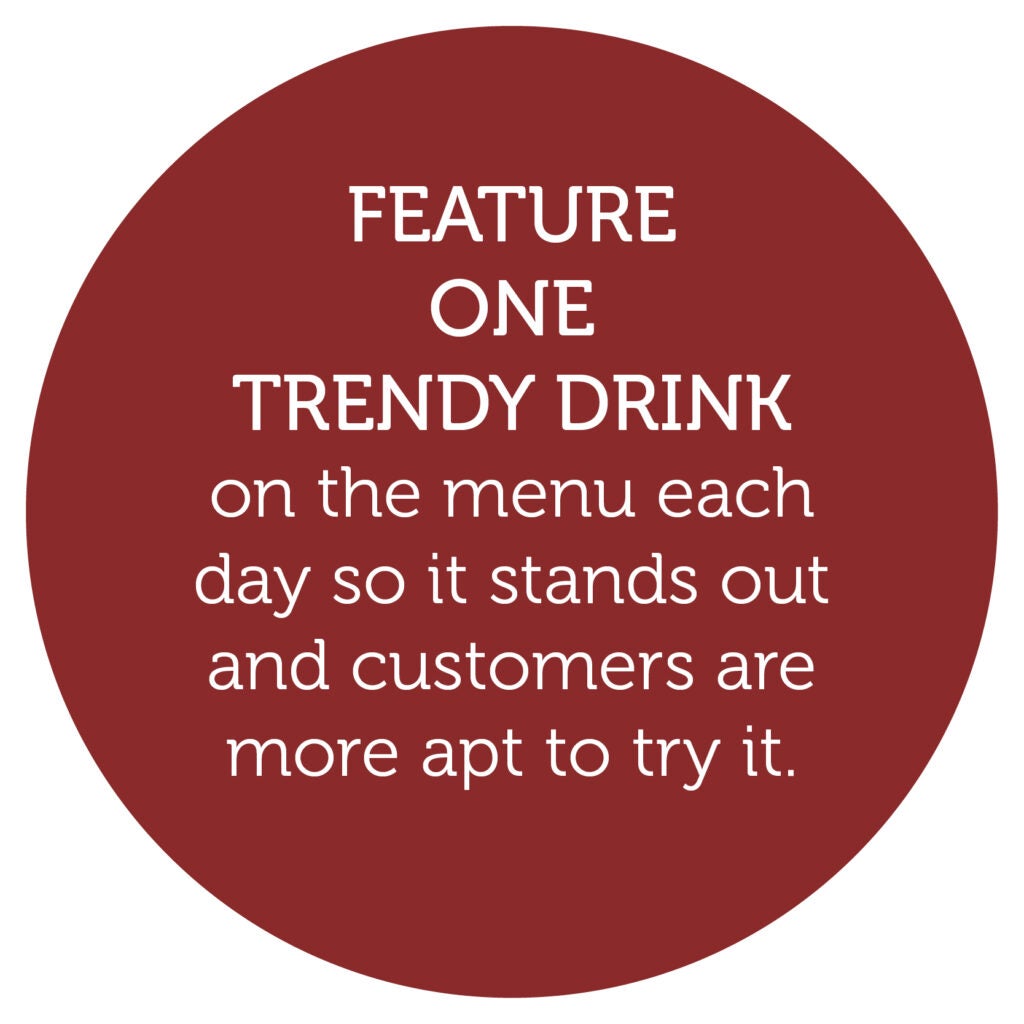 Pour a Cup of Health: Clean cocktails, low-sugar, brain-boosting, and medicinal drinks are really popular this year.
Mix up a blue-matcha margarita, create a vegetable-infused cocktail, or add digestive bitters, kefir, or kombucha to any type of smoothie, cocktail, or mocktail to promote gut health.
Reduce the sweet stuff. Offer smoothies, teas, and cocktails that don't contain syrups and hidden sugars like caramel or fruit juices. "Skinny" margaritas are also a great option.
Brain-boosting drinks are top of mind. Coffee, green tea, and kombucha contain some nootropics, a natural or synthetic compound that researchers say may improve brain function.
Add a little something extra. Impress with spirulina powder, a highly nutritious type of algae loaded with vitamins and minerals. Add to smoothies or a cocktail with rum and ginger ale. Or try mushroom coffee, a brew made with adaptogenic mushrooms and coffee beans. The mixture is said to reduce anxiety and boost immunity.
For more information about how to jazz up your beverage program, ask your Gordon Food Service® sales representative for the 2023 beverage guide.
Read: Dress Them Up, Serve With Style