Communal eating has returned, and board builds are full of possibilities for creating something the whole table can enjoy.
Charcuterie boards have been around for years and remain popular. As a shared board, it's like a grazing table with something for everyone. For restaurant operators looking to expand on the concept, the possibilities are as abundant as the food on the board.
"When charcuterie boards first came out, we immediately tried to think of what's next," said Erin Copeland, a Houston-based Gordon Food Service® Culinary Specialist.
Boards have a visual appeal and offer high margins, says Culinary Specialist Kevin Green. They also invite guests to try something unique to your operation.
"I love charcuterie boards. When my wife and I go out to eat, we often try them," Green said. "It's really an opportunity to see what chefs are doing to be creative.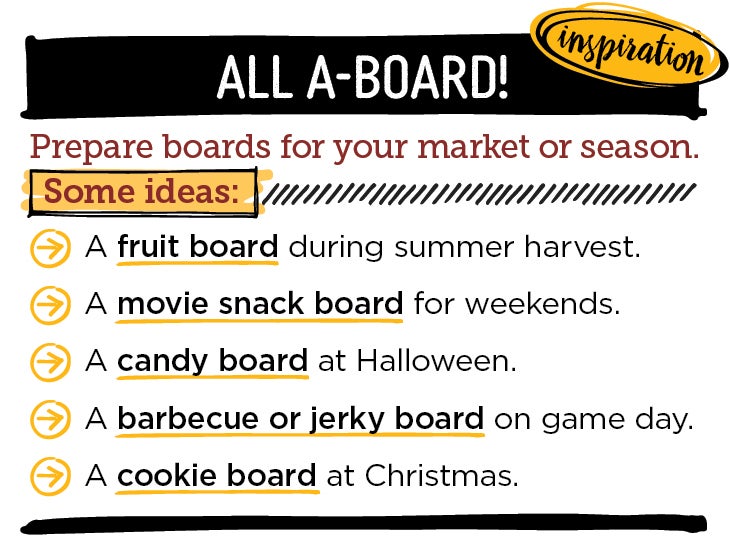 A Drawing Board Full of Ideas
Our Gordon Food Service experts have lots of ideas and observations about board builds. Some examples:
Sea-cuterie boards. Feature smoked salmon or eel, whitefish spread or crab dip, sashimi tuna, blackened shrimp, anchovy-wrapped olives, calamari, etc.
"When people go out to eat it's an occasion, so they are likely to choose something creative that they wouldn't try at home," Toronto-based Culinary Specialist David Evans said.
Veg-cuterie boards. Offer natural or pickled veggies, such as peppers, cauliflower, rainbow carrots, radishes, snap peas, cucumber slices, hummus with everything bagel seasoning, beet dip, etc.
"Right now, restaurants are scaling down on ingredients, but vegetables are always in the picture," said Michael Viloria, Culinary Specialist out of Vancouver, British Columbia. "They are appealing because they provide value and a great sharing experience."
Cheese boards. Use a local pub's beer to create cheese dip, and serve examples from local dairies or cheesemongers. An upscale version can include wedges — a firm cheese, a soft cheese, and a sharp (or tangy) cheese. Accompany with crackers, a baguette, dried fruits, etc.
"Think of boards as a larger format appetizer," Boston-area Culinary Specialist Derek Seigfried said. "And a lot of great cheese comes from the Mediterranean region, so it can be part of the progression to other flavors on the menu."
Breakfast boards. Waffle bites, French toast sticks, mini muffins, hard-boiled eggs, candied bacon, bagel wedges, cream cheese, strawberries, raspberries, blueberries, Nutella, granola … the list goes on.
"It's kind of a blank palette to add accompaniments that appeal to the eye," Copeland said. "And that circles back to social media. Everyone likes to take pictures of the food, so make it Instagrammable."
Dessert boards. Create a chocolate-lovers delight with chocolate chips, cookies, cupcake bites, brownies, cheesecake, etc. Or call on berries and fruits, served with whipped cream or chocolate dip.
"Allow people to have a taste of your dessert menu, or use it to satisfy customers who crave something sweet and want to treat themselves," Evans said.