With another school year in full swing, now is a great time to consider an alternative to cafeteria dining that may just make things easier for educational facilities to feed and socialize their students– all at the same time. Students typically aren't excited about school lunches, especially in a cafeteria setting. But it's a meal they can't afford to miss for both physical and mental health, research shows.
That's just another reason mobile food carts are becoming a popular addition in many school settings. They serve as a great perk for students and can help struggling school lunch programs increase revenue.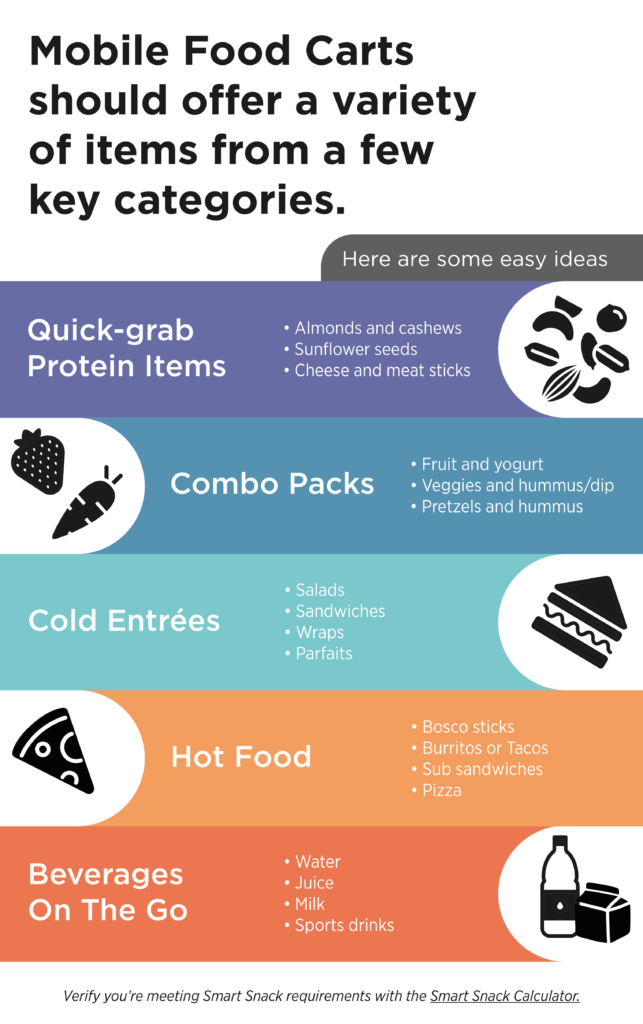 Kymberly Wroble, a Gordon Food Service® non-commercial business solutions specialist, said students are changing how – and where – they have their lunch. And educational settings need to pivot accordingly. Introducing a mobile food cart is a great way to do that, Wroble said. "We are finding that students are not going to the cafeteria. They want to hangout in their social environment," she said. "The cafeteria is not that comfortable. The mobile food cart goes where your students are going. I think it's a great solution."
Why Mobile Meals Matter
Part of what the mobile food carts offer is lunch appeal – lots of variety and grab-and-go options, drawing in more students. It's an ideal way to get students together to take advantage of healthy lunch options. "If you have more students getting in a full meal or an ala cart item, it's a win-win.
Students aren't hungry and are more focused when they have a healthy bite to eat," she said.
School lunches in general are becoming more popular, research shows. In part, because it creates a social environment for students. A mobile food cart can facilitate that same setting. 
Social interaction is a key driver of teens' rising enthusiasm for and positive perception of school meals. More than 70 percent said that eating school meals gives them a chance to "build friendships and community with other students," according to an article released by No Kid Hungry. Prior to COVID, 61 percent of teens said they would likely eat school lunch, the article stated. That number soared to 86 percent—or more than four in five teens—in a survey conducted in May 2022.
Versatility, Accessibility is Key
Creating a successful mobile food cart isn't just about what items you're offering. It's also about where you put it, Wroble said. "Some are placing it right at the front entrance," she said. "It's hard to get students into the cafeteria for breakfast, especially. But if they have a cart right where they walk in, they can just grab something. Time is limited (between classes) and it's hard for students to get from point A to point B in time."
Mobile food carts can serve more than just school lunches too, Wroble said. Breakfast offerings can even be eaten in the classroom, in some cases, she said. "There is really no downside for the education facility or the end customer – the students," Wroble said.
Ask your Gordon Food Service sales representative for more ideas on creating a mobile cart program.