Fungi favorites are showing up on more and more menus.
Mushrooms are hidden gems of the produce world. Their earthy flavor and gourmet reputation puts these forest favorites at the front and center— no longer a simple salad or pizza topping.
Mushrooms have long served as a sidekick, commonly coated with a little garlic butter and seared in a cast iron pan, or added into a stock, sauce, or gravy. But that's starting to change, as chefs are tapping into new and different ways to prepare and serve these tasty morsels.
"After a year or so of plant-based offerings, people are starting to look for vegetables in their natural state, and mushrooms have lots of flavor notes for people to appreciate," said Micheal Viloria, a Vancouver-based Gordon Food Service® Culinary Specialist.
Whether people admire their health benefits or umami flavor, mushrooms are showing up everywhere from appetizers to sides, entrées, and beverages.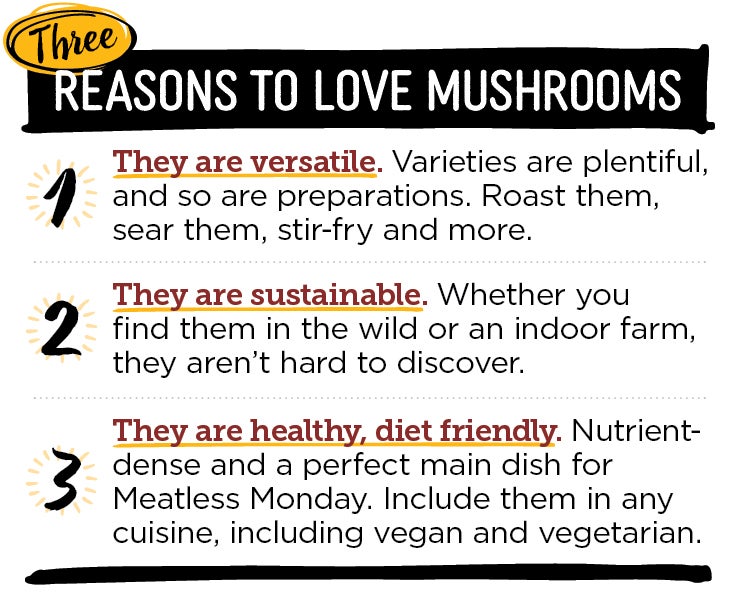 Soak in the flavors
Mushrooms act as sponges, soaking up any flavor a chef desires. Brined or marinated, cremini mushrooms light up a salad. Tempura flash-fried oyster or enoki mushrooms pair nicely with a gochujang aioli. Dust them with Thai seasoning or black sesame seeds for an extra flavor jolt.
Those are recommendations from Kevin Green, a Detroit-area Culinary Specialist. He sees no limit to the versatility and the ability of mushrooms to gain acceptance.
"Mushrooms are a simple appetizer you can put on a menu with really good margins," he said. "You're even seeing lion's mane mushroom powders in beverages like coffee and tea."
Some Assembly Required
Those easy-to-execute applications are labor savers, but Culinary Specialist Derek Seigfried says some mushroom dishes can be a labor challenge.
"Many types of mushrooms have to be handled and prepared in different ways. Operators having trouble finding even basic help could have a hard time getting people who know the nuances of each mushroom," he said.
For skilled kitchen teams, switching from a traditional Bolognese sauce to a mushroom ragout saves on meat costs and adds flavor, Culinary Specialist Bill Barker points out.
"Lack of skilled labor means some places won't be making duxelles, but it doesn't take too much effort to marinate and season a portobello mushroom cap and create a delicious burger," Barker said. "Another great sandwich is the chicken fried hen of the woods mushroom sandwich."
Wide Variety, Many Possibilities
Hen of the woods mushrooms, also known as the maitake mushroom, is one Viloria expects to boom in popularity. In addition, he splits and sears king oyster mushrooms for use in sandwiches or serves them like scallops, with a side of potato fritters.
Mushrooms as a seafood stand-in? Consider the seafood mushroom, a larger version of the enoki variety, with a crisp yet meaty texture.
"It has a seafood flavor — a big umami bomb," Viloria said. "I fry them up and use them in place of calamari."
Another mushroom with a seafood flavor is the well-named lobster mushroom. Another easy-to-apply mushroom is the chanterelle. It has a golden color and a peach-apricot-pepper flavor, perfect for a little seasoning.
"Mushrooms are a food I have been able to play with throughout my career. There are tons of opportunities to use them in any part of the menu," Villoria said.