Trust20, a registered trademark of Relish Works by Gordon Food Service, is creating a more reliable workforce for the food service industry by providing training, certification, and other resources that make it more approachable for food service workers at every level to reach their full potential.
They are thrilled to announce the launch of their Food Manager Program! There are two ways to interact with Trust20's Food Manager Program.
Trust20's Food Protection Manager Certification
First, Trust20's Certified Food Protection Manager (CFPM) exam allows candidates to demonstrate the skills and knowledge required of a Food Protection Manager. Anyone seeking credentials can easily schedule their online, remote-proctored CFPM exam through Trust20's partner Meazure Learning.
After candidates schedule their CFPM exam, they can read up on how to prepare for their testing session, what type of government-issued I.D. they must present to their proctor, or review Trust20's resources for handling exam anxiety.
All CFPM exam questions are multiple-choice, and candidates have two hours to complete the exam. Candidates will receive their results immediately after they submit their CFPM exam.
Trust20's CFPM exam questions have been developed from a blueprint that maps out seven high-level topics the Conference for Food Protection states that food managers must know.
The exam domains include:
Training
Food Safety Management Systems
Cleaning & Sanitation
Facilities & Infrastructure
Personnel Health & Hygiene
Environmental Controls
Legal & Regulatory Compliance.
Trust20 developed its CFPM exam with a group of subject matter experts across a variety of industries including healthcare, hospitality, retail, restaurant, and manufacturing ensuring it has a comprehensive view of the food service industry.
Trust20's Food Manager Certificate Training
Both food service professionals new to management and long-time industry veterans can prepare for the CFPM exam experience by taking Trust20's Food Manager Certificate Training.
Trust20's mobile-friendly course is divided into ten modules covering threats to food safety, training for food handlers, handling employee illnesses, Food Safety Management Systems, and more. The training is also self-paced, so learners can start and stop on their terms–no need to take off work for in-person training!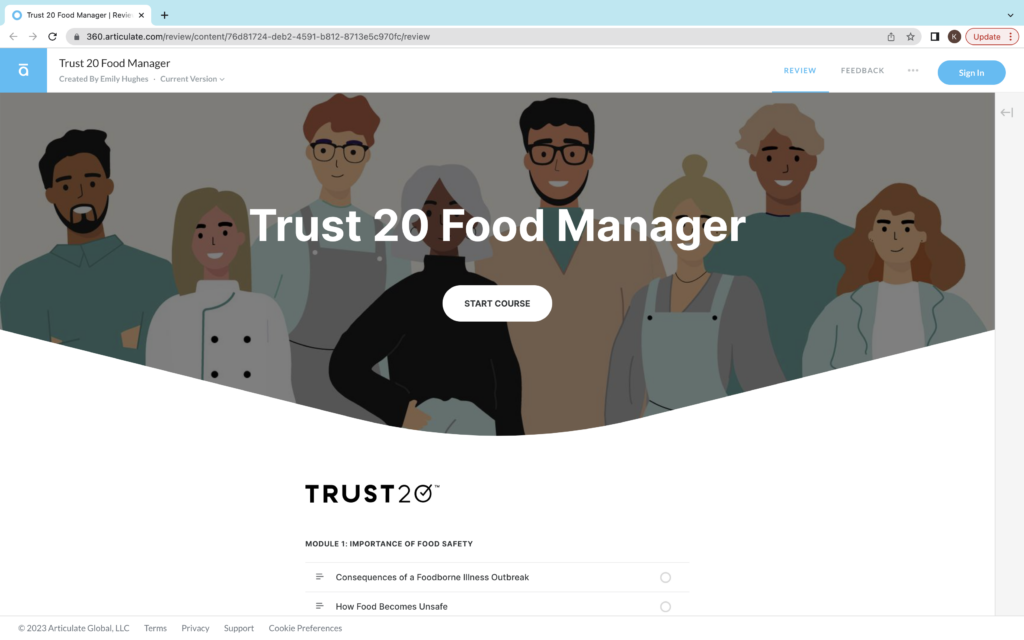 Trust20 is committed to providing the food service industry with the most accessible and up-to-date food safety resources. With this in mind, they developed this course in collaboration with instructional designers, food safety subject matter experts, and food industry professionals to ensure it adheres to the ADDIE Instructional Design Methodology.
The course includes interactive lessons, real-life scenarios, and gamified knowledge checks that aim to support a variety of learning styles and ensure maximum retention. Learners can also access downloadable resources and a learning assessment to help them prepare for exam day.
The successful completion of this course does not result in CFPM credentials, but it can help team members meet state and local training requirements while refreshing their food safety expertise.
Other Products & Resources
In addition to its Food Manager Program, Trust20 also offers Food Handler Certificate Training and Food Allergy Certificate Training. Trust20's products have been developed in collaboration with operators, staff, and experts and are available to food service workers across all sectors of the industry, including healthcare, retail, and education.
Trust20 has also made it easier for people to learn about the local training requirements by creating a state-by-state guide to the requirements for food handlers, allergen awareness, and food manager training.
Additionally, Trust20 maintains a robust catalog of blogs covering food safety topics like food safety management systems, career advice, and more.
To learn more about their products or group purchasing options, visit www.Trust20.co.