Four walls restaurant marketing reaches customers already at your tables

Every time a customer enters your restaurant, it opens the door to a concept called four-walls marketing — promoting your business to customers already dining there.
Great four-walls marketing enhances the customer experience, turning the visit into something more for the guest and your bottom line. It can add excitement, increase check average, encourage a repeat visit or build loyalty.
"At a time when customers are hard to get, you simply can't take for granted a customer who is already there," said Gordon Food Service Customer Marketing Manager Geoffrey Bonham.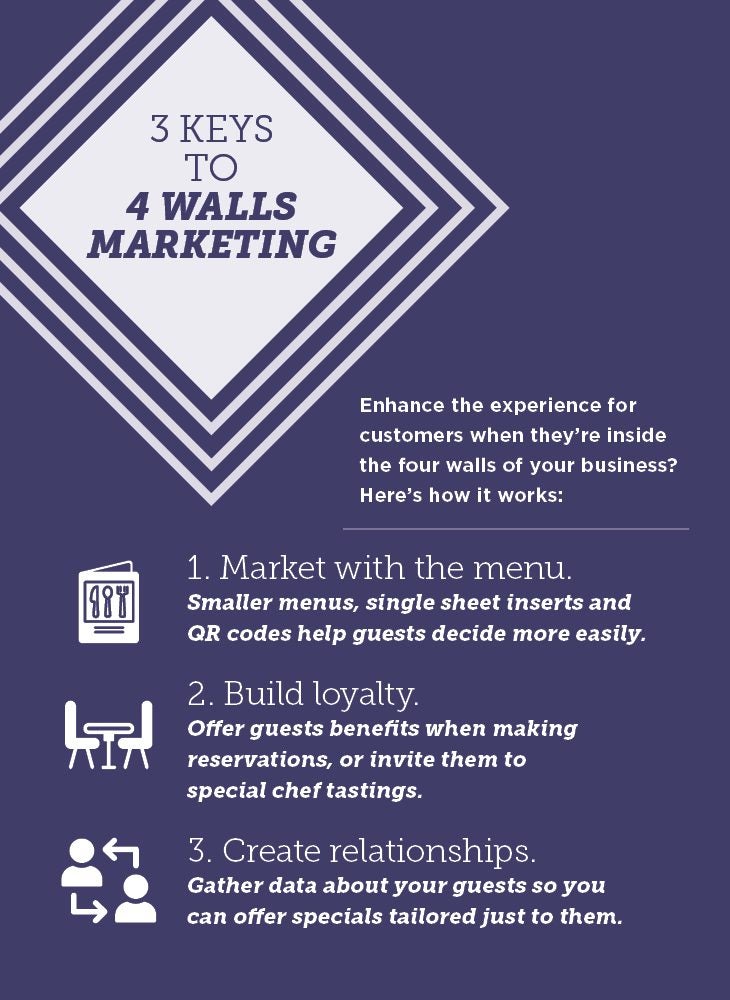 Getting Started
The menu is a great vehicle for marketing inside your restaurant, says Vanessa Snyder. She's a Gordon Food Service Menu Specialist who advocates for a smaller menu, done well.
"Because of labor shortages and rising prices, you need a menu you can execute consistently," Snyder said. "A smaller menu means an easier shopping experience for customers and quicker table turns in your dining room."
Another way to improve customer experience and help stressed servers is to utilize QR codes that link to the menu. As guests are seated, they can review the menu before the server arrives. If possible, allow them to order drinks or appetizers electronically.
Menu inserts or single-sheet menus for drinks and desserts are a low-cost, high-reward marketing tool. An insert can feature daily or seasonal specials, as well as tease upcoming promotions. A drink and dessert menu that stays at the table tempts guests throughout the meal.
Loyalty and Beyond
Table tents are another four-walls marketing tool to promote specials and LTOS, but don't overlook them as an avenue for building a loyalty program. Add a QR code customers can scan to enroll and find out more.
While typical loyalty programs may set you back a free dessert or a discount down the road, they don't have to cost anything.
"Loyalty programs can be built around exclusivity and experiences," Bonham said. "You can invite members to a special wine-tasting or chef-demonstration night, and people will often pay to be the first to try a new wine or a special dish."
Members also can be offered special consideration toward reservations, he explains. Simply hold a couple of tables at your 7 p.m. seating until the last minute for loyalty members. If they call ahead, they skip the line. If not, the table becomes available at 7:05.
Four-walls marketing can be playful, depending on your brand. A game night, trivia night or vinyl music night — play records by request — are a way to show your creative side.
Build Relationships
As people enroll in loyalty programs, reserve tables or engage with servers, be sure to collect customer data. Sevenrooms, a preferred partner with BackofHouse, offers a customer relationship management (CRM) platform to gather insights that can tweak the guest experience.
CRM data works as well for mom-and-pop restaurants as it does for chains. When staff scheduling and high turnover disrupts server-customer rapport, CRM data picks up the slack. It can remind your team a party for tonight is celebrating a birthday or anniversary, really loves the crab cake appetizer with zesty cocktail sauce, etc.
"Normally, when people think about marketing budgets, they think outside the facility — TV, billboards, social media," Bonham said. "There, you are in the acquisition game. Getting creative inside your four walls means you can sometimes spend less money, reach people who are already inside your business and are more likely to come back or tell their friends."