Operators that focused on bolstering their beverage program have learned a lot in 2023. And while all the trendy drink offerings certainly add to their bottomline, there's another lesson to be learned: Making a cocktail look pretty pays off. Literally.
Beverage-program managers are seeing this firsthand. How you present a beverage is almost as crucial as taste when it comes to selling it, according to a post in Forbes magazine.
"People love to drink with their eyes first," says Jason Asher, vice president of beverage, Grey Hen Rx, UnderTow and Platform 18 in Phoenix. "Food has always had the platform to show elevated plating techniques and that's finally moving into the cocktail world. Drinkers are expecting avant-garde presentations and interactive elements that swoop them into the moment with every sip."
The latest ways to accessorize a cocktail come in all forms. There are many creative ways to present your drinks in a way that is eye-catching, unique, and on-trend. Operators just have to be open to putting in the extra effort to dial up their drink service.
Here are some ways to have your drinks stand out:
Garnishes: Go beyond a maraschino cherry or olive on a toothpick. Herbs are an elegant, tasteful way to decorate a beverage. Add a sprig of rosemary, edible flowers, dehydrated fruit slices, or loaded cocktail picks. Garnishes shouldn't just be pretty, they should add to the flavor as well. Make sure you're choosing garnishes that complement the drink you're topping.
Flavorful Rims: Resist the urge to salt a rim and call it "good." Step it up a notch and consider rim glasses with specialty sugar, salts, cocoa, crushed candy, or a trendy smoked salt that bartenders are boasting about.
Fancy Ice Cubes: Forget about clinking a few regular old ice cubes into a glass. There's something better chilling in cocktail glasses this year: Infused ice. Freeze herbs, like sprigs of rosemary and lavender, or fruit and edible flowers in ice cube trays. Use large block ice cubes to display the infusions, and clear glassware free of patterns to show them off.
Glassware & Accessories: It might be time for some operators to invest in new glassware. Consider using attractive glassware for cocktails and incorporate fun stirrers, unique skewers, swizzle sticks, spoons, and straws. There are plenty of affordable and fun old-timey glassware collections at antique stores. Why not bring back the style and class of another era to show off your upgraded cocktails?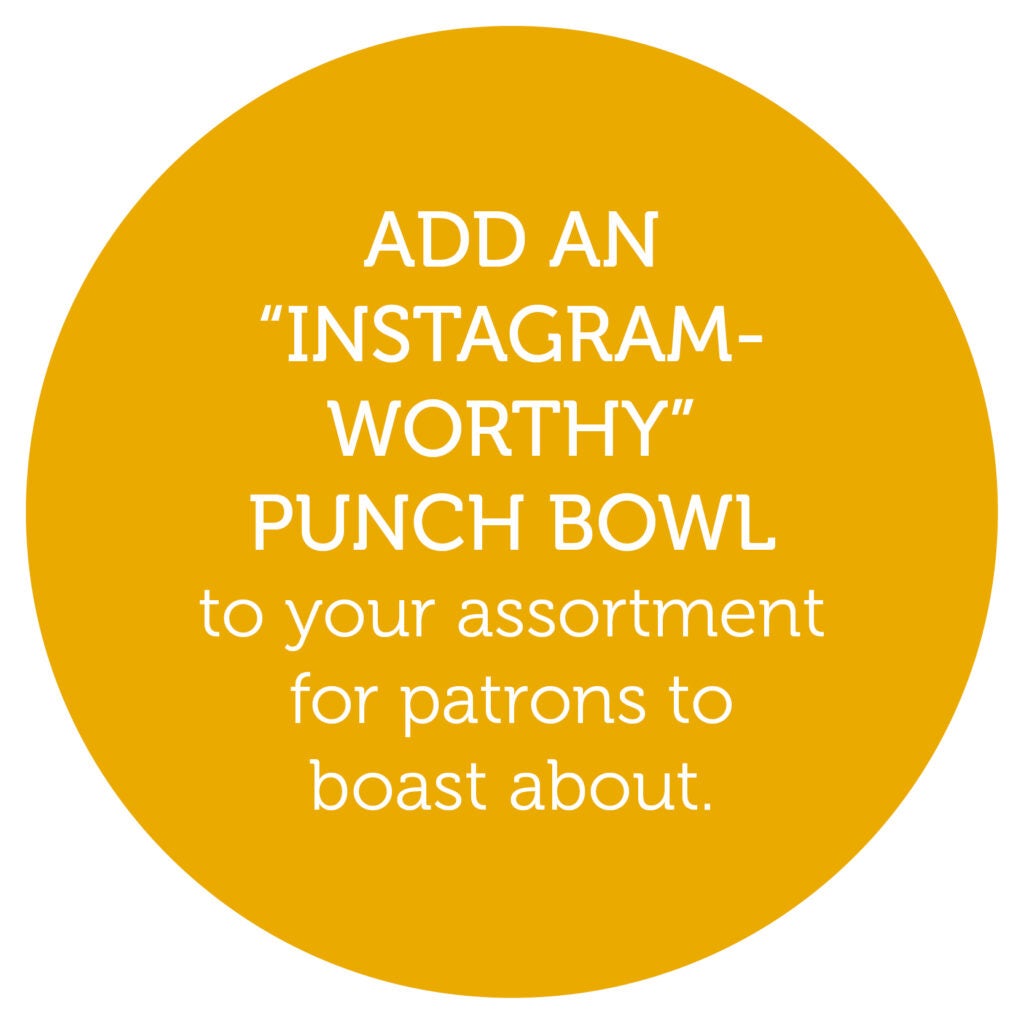 Looking for more images to inspire you and additional ideas for your beverage program? Ask your Gordon Food Service® sales representative for the latest beverage guide.
Read: Trendy, Tasty Drinks That Can Boost Bottomline