The holiday season is quickly approaching so it's the perfect time to infuse the spirit of the season into your business. It's a prime time of year to boost sales and create unforgettable dining experiences for your customers.
According to the National Restaurant Association, 3 out of 4 consumers intend to go out to eat or order takeout during the festive season. This is a significant audience to tap into and here's how you can do it: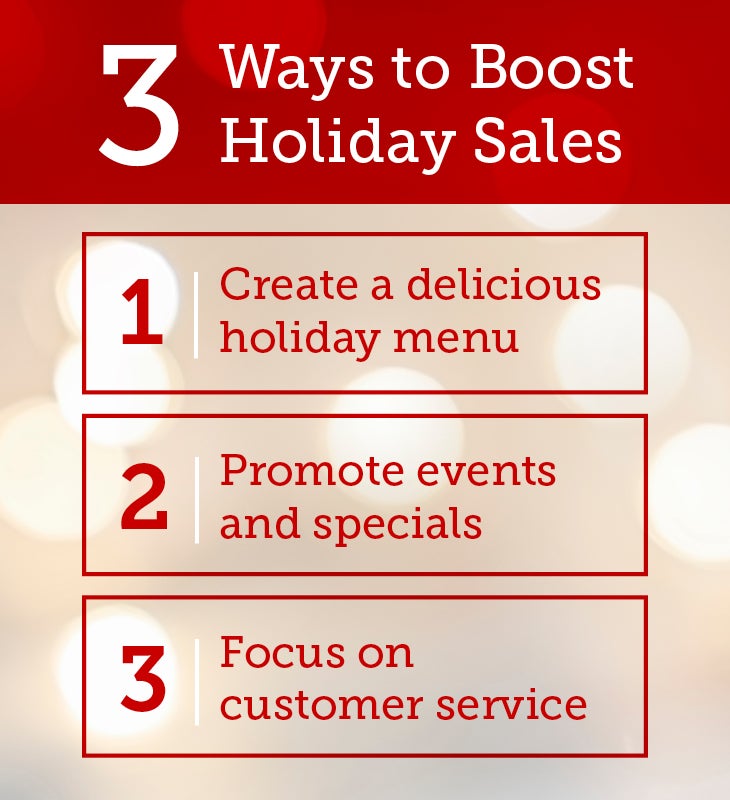 Craft a Special Holiday Menu
A unique limited-time offer holiday menu is your ticket to attracting customers seeking a distinctive dining experience. Here are a few ways to make that happen:
Combine traditional dishes with innovative options, catering to various dietary preferences.
Refresh your beverage menu with seasonal mocktails and cocktails.
Include delightful desserts and offer tasting menus or takeout options.
Use Gordon Culinary ProTM to quickly estimate menu and plate costs to build profits.
Need recipe inspiration? Check out our culinary specialists' latest holiday ideas.
Promote Your Holiday Happenings
Offer Special Packages: Encourage group dining and gatherings with fixed-price menus, family-style meals or packages that include entertainment or wine pairings.
Promote Early Booking: Incentivize early reservations with discounts to secure bookings as a way to forecast your holiday revenue.
Implement Online Ordering and Delivery: Providing online ordering and delivery services in the digital age is a must. Consider partnering with BackofHouse for seamless solutions.
Launch a Holiday Marketing Campaign: Use social media, email marketing and your website to showcase your holiday offerings and create engaging, shareable content that captures the festive spirit.
Assess Seasonal Success: Conduct a review and measure after the holiday season to determine what worked, what didn't and what opportunities you can implement next year.
Provide Exceptional Customer Service
Exceptional customer service is crucial during the holidays. Prepare your staff with early training on the holiday menu, new features and procedures. Train your team to handle large groups efficiently and provide feedback and incentives to recognize outstanding performance.
The holiday season presents an opportunity to increase sales and create cherished memories for your customers. By planning ahead, this holiday season can be both profitable and joyous for you, your staff and your diners.