Old-school vegetables are enjoying some newfound love. Veg-centric plates give veggies a starring role on the menu, offering guests tasty options and restaurants a way to tame the high cost of meat.
These aren't your grandma's Brussels sprouts. That's because grandma never dreamed of hitting them with a dash of Asian five-spice powder and pan-frying them in bacon grease with sausage bits.
"Customers are still willing to pay for good food. Maybe not the $50 beef filet, but something different," said Erin Copeland, a Houston-based Gordon Food Service® Culinary Specialist. "As an operator, it requires creating something unique and delicious at a price point that makes people comfortable."
Veg-centric sits right in that sweet, er, savory spot. Grilling, roasting, braising, deep-frying and other aggressive cooking methods add a new dimension to vegetable flavor. Adding a protein component elevates vegetables to a center-of-the-plate presence.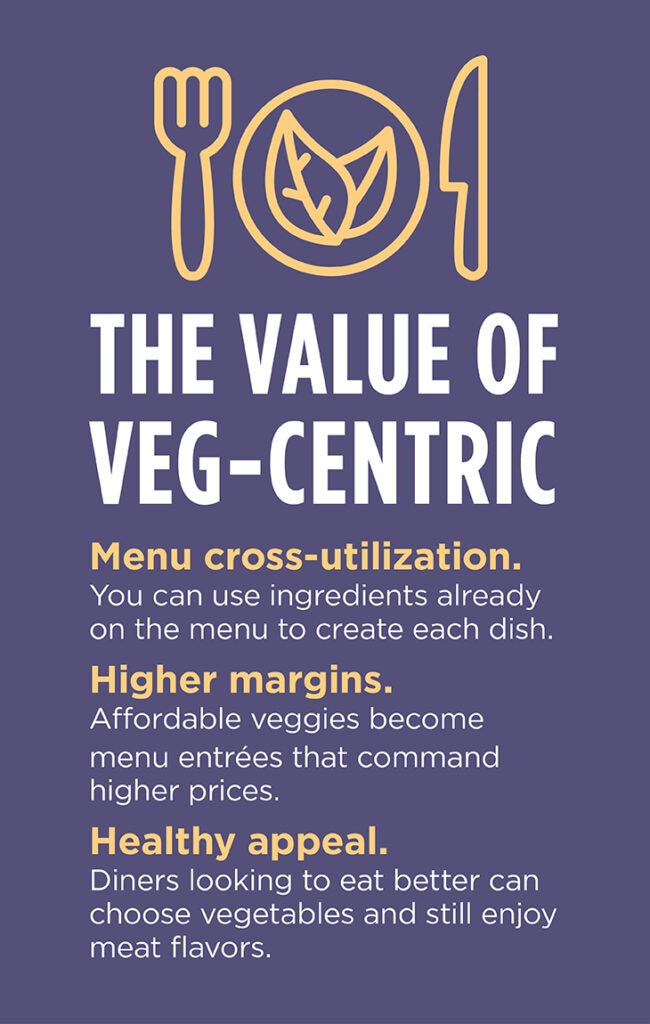 Turn Up The Veg-Centric Hype
A challenge operators face is shedding the perception that veg-centric is something more than a vegetarian or vegan menu option.
"Words or pictures are the best way to market vegetable dishes on the menu," Copeland said. "Vegetables offer lots of color, and clever, catchy phrases make me say, 'That sounds like something I want to try'."
Here are a few examples: 
"Let's Go Bowling" invites guests to take a second look at the descriptions for entrée bowls, salads, stir-fry items or veg-centric pasta dishes.
"Welcome to the Farm-acy" hints at vegetables, but doesn't exclude pork, beef, chicken, seafood, sauces and beyond.
"Knock Me Over with a Feta" will make people curious about how you're incorporating cheese on the veg-centric menu.
Veg Out on Familiarity
Once people are curious, then it's all about dialing up the flavor. A popular choice on menus right now is Mediterranean, with seasonings perfect for veg-centric eating.
"What comes to mind when you think about Mediterranean flavors is freshness — fresh tomatoes, cucumbers, peppers, lemon, nuts, parsley," Copeland said. "The dish can include chicken, beef or lamb, with tzatziki sauce or garlic. You may have many of these things elsewhere on the menu already."
Operators also should consider local cuisine. Crawfish are popular along Texas-Louisiana Gulf Coast, and Copeland has seen them used in veg-centric dishes at Vietnamese restaurants, prepared with sesame oil, star anise and Thai chiles.
Texas also is big on barbecue, and smoky flavor pairs well with vegetables. For a new twist using familiar foods, simply add a few bites of pulled pork or smoked salmon to a dish with corn, potatoes and shiitake mushrooms, then add a ramekin of barbecue glaze on the side.
Veg-Centric Innovation
With meat costs running hot, veg-centric entrées offer operators a way to use less meat and more vegetables to achieve higher margins. To help, using flavorful value cuts like slow-braised beef tri-tip is an option.
Some operators are finding success with fun plays on dishes that would normally contain meat. Eggplant, mushrooms, hard-cooked eggs, cheese and toasted nuts can stand in for meat at a fraction of the cost, all while adding texture to a dish.
People still seek out good food. Even in a tough economy Copeland expects people will continue to pay for great flavors that make them want to come back to your establishment. veg-centric creations can play a role.
"When it comes to vegetables, it seems hard to innovate," Copeland said. "Break boundaries and try new things. Try new cuts or new cooking techniques. Easy to say. Hard to do. The restaurants who do it will increase their chances for success."