A new year means new possibilities for restaurant menus.
What's new? What's next? Chefs and restaurant operators often ask, so we put the question to our experts: What's on the horizon for 2023 culinary trends?
Our Gordon Food Service® Culinary Specialists weighed in on what operators can expect in the year ahead. They noted some common threads, starting with a reminder that customers want new flavor experiences and are always willing to pay for good food.
"Operators really need to know their customer base and appeal to them, but they also have to be looking at how to attract the next generation of diners," said Houston's Erin Copeland.
Four insights for 2023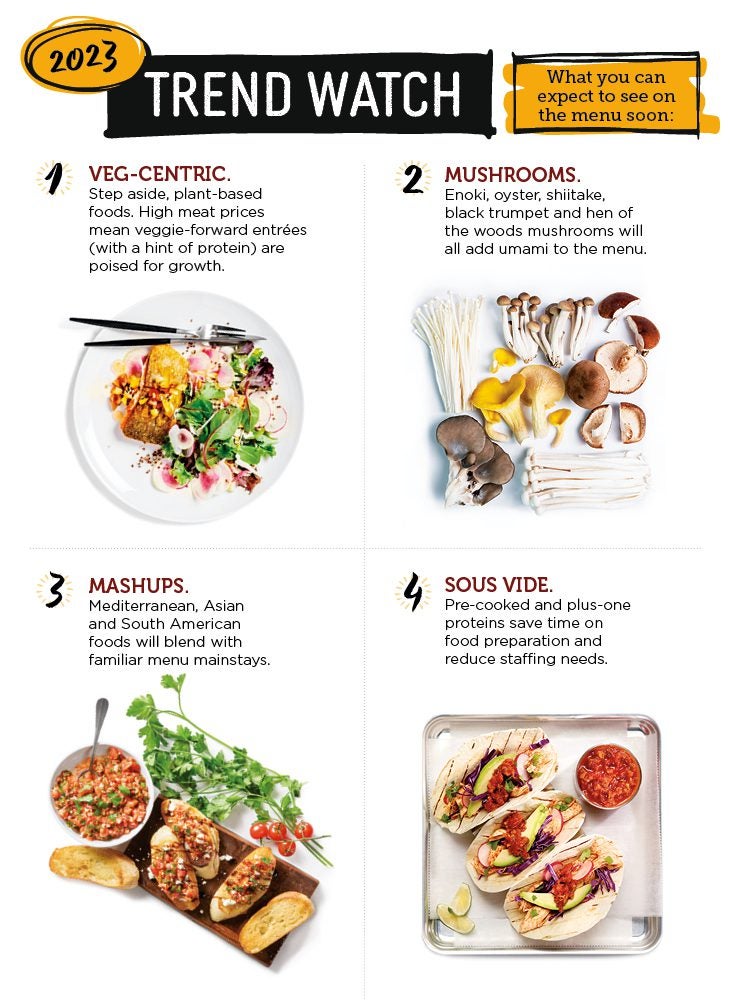 1. Veg-centric sensations. People are pausing on plant-based foods and rediscovering vegetables as a center-of-the-plate option.
Not limited to vegetarian or vegan, veg-centric can include meat protein in small amounts. The appeal is the flavor notes imparted by aggressive cooking techniques – char-grilling, broiling, smoking, fire-roasting, etc. – and seasonings.
"I go into restaurants locally that have whole pages of veg-centric choices, with fun plays on dishes that would normally contain meat," Derek Seigfried said of the Boston area. "The meat is removed and eggplant is put in its place, or mushrooms are done five different ways to replicate meat. Veg-centric isn't going anywhere with prices inflating in the beef and seafood market."
2. Mushroom umami. Earthy mushrooms have chefs looking beyond portobello burgers and button mushrooms on salads and pizza.
"Take oyster mushrooms and coat them in a tempura batter and give them a flash fry as an appetizer served with a gochujang aioli," suggests Kevin Green, from the Detroit area. "Take it up a notch and dust it with a Trade East® rub."
Enoki, oyster, shiitake, black trumpet and hen of the woods mushrooms all add umami to the menu, plus they absorb flavors to varying degrees while adding color to the plate. Green says mushrooms work for all dayparts, including lion's mane powder in beverages.
3. New mashups. The culinary melting pot continues as people sample unfamiliar cuisines and find similarities. Consider Mediterranean influences on familiar foods. Tomato-based Italian bruschetta becomes Turkish ezme. Traditional pizza becomes a cheese- and egg-filled Georgian bread boat. And it doesn't stop there.
"On our Los Angeles trends tour, we saw a lot of Nikkei cuisine [Japanese-Peruvian fusion], and there are a lot of Japanese and Asian influences we're seeing," Seigfried said. "At Magari in L.A., there was pasta with crab, lemon poppy and yuzu cream sauce. So simple, yet so refined."
One of Copeland's favorites mixes gochujang sauce and peanut butter for a dipping sauce perfect for anything from wings to pot stickers.
4. Sous vide and pre-cooked proteins. Staffing remains a challenge, so operators are looking at cooked, ready-to-heat options to save labor and time.
"Sous vide pork belly and chicken are time-savers, and our 25 to 30 plus-one proteins have great flavor profiles with little labor and no waste," Green said. "Chicken carnitas and barbacoa can be used in a sandwich, taco or an upscale omelet. They're great for cross-utilization."

Other expectations for 2023
Operators will be looking to solve other menu and back-of-house labor challenges in the year ahead.
Chefs are taking a closer look at pickling and fermenting to stretch the menu. Vinegar-brined veggies and the sharpness of fermented kimchi can elevate menu mainstays.
Newfangled charcuterie-style boards offer a high-margin opportunity as a meal or a shareable. Think of them as an Instagrammable version of the grazing table: cream cheese boards, pickle boards, seafood boards, veggie boards and even butter boards.
Staffing challenges also are forcing changes on the culinary side. In addition to the use of labor-saving sous vide and pre-cooked proteins, operators are seeking to increase efficiency and allow chefs to focus on creativity.
"Restaurants really need to get the most out of cross-utilization," Seigfried said. "If you have tomatoes, it's time to spread that ingredient to 10 different things on the menu and worry more about executing fewer recipes in better ways."